Gerald is a student from Reims, France. He is in the 4th year of Computer science Engineering at CESI. He was with us in Coding Bootcamp Praha for five months, where he was mentoring students and working on developing projects for the company. He became interested in computer science when he was a child and wrote his first code at 11 years old.
This internship at Coding Bootcamp Praha isn't your first one?
It's not, this is my 4th internship. Before this one, I had three internships at different companies in France.
Why did you decide to do this internship abroad? Why did you choose Prague and Coding Bootcamp Praha?
The school requested that I do an internship abroad. I chose Coding Bootcamp Praha because I wanted to explore the teaching area and try mentoring other people, so the bootcamp seemed like the best opportunity for that. Basically I ended up in Prague because of the bootcamp. I did not choose Prague because of Prague.
You have been coding for so long. Have you worked on any projects outside of school and internships?
I had two short term contracts as a web developer with a company named Asga, where I was working on creating company management software.
Can you highlight some of your previous coding experience?
My most interesting coding project is confidential, so I can't talk about it. But I had one personal project with three friends where we were making a game. We have been working on it for one year, but it's not finished yet. It was a project for ourselves, and it was a good experience for practicing.
You were in Coding Bootcamp Praha for five months, and our students had an opportunity to learn from you. Did you also learn something from our students?
I have learned how to understand the problems that students are dealing with, and how to help them in the easiest possible way. Also, I improved my communication skills during this internship.
What did you enjoy the most during the internship?
Meeting different people from all over the world, seeing every day how they are learning more and more while growing as programmers and seeing the final projects they made on their Demo Day.
What was it like to be an intern at Data4you?
It was a great experience. The mentors are real experts in their field, and they were helpful. Also, I had the opportunity to work with five other interns from all over Europe, who could be good connections for the future. I enjoyed creating lessons, exercises, and exploring things such as Laravel and React, which I will be able to use later.
Can you describe what one working day at Coding Bootcamp Praha looked like for an intern?
I would come at 9 am, and I would sit at the back of the classroom where we had something like a mentor station. While I was there, I would work on different projects for the company, and meanwhile, students would come with questions, and I would help them with their code. For lunch, I would go out with my co-workers or hang out with students in the kitchen. After that, I would continue working until 5 pm in the classroom when my day at bootcamp ended.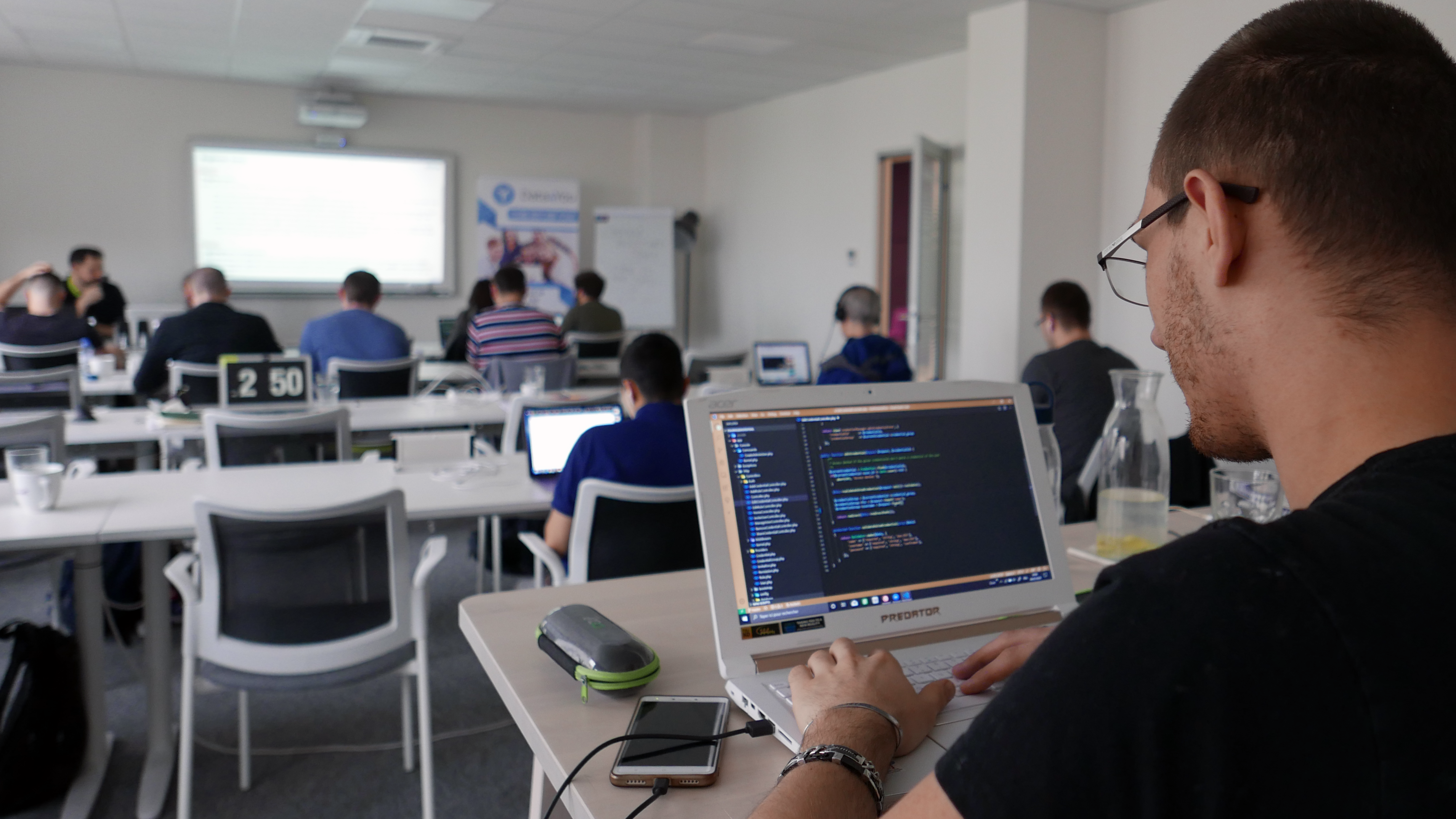 What were your tasks during the internship?
I created lessons and exercises for students, and I was helping to mentor during the bootcamp, hackathons, and workshops for beginners. Also, I worked on some web applications for the company.
How did you like living in Prague, can you see yourself here in the future?
Prague is a nice city that is not overcrowded. It is easy to live there, and it's not so different than the culture in France. I liked Czech food and beer. It's a beautiful city, but my plan for the future is to stay in France.
Where do you see yourself in the future?
I would like to work in robotics and artificial intelligence as a researcher or project manager, but we will see.
In the end, what would be your message for the future interns at Coding Bootcamp Praha?
The internship provided me with a great experience. Being able to gain work experience in a different country was a great opportunity to discover a new culture. Also, it was a good way to improve my knowledge in different areas of computer science, as well as trying to teach and mentor computer science. It was also interesting to work on behind-the-scenes projects. So my message would be: work hard and have fun!